​
To open, push down on the red tab on the drawer you wish to open. While the tab is depressed use the handhold to pull the drawer open. Once the drawer is partly extended you may release the red tab. The drawer will automatically lock in its open position once it has reached its fully extended position. Once locked in the open position you may insert your stove in the drawer.
​
To close, push down on the red tab of the drawer you wish to close. While the tab is depressed, push the drawer closed toward your vehicle. To make sure the drawer is securely locked push down on the tab and give the drawer a firm push closed until the drawer clicks locked.
​
Drawers should be opened and closed individually.
​
To remove the washbasin, make sure both drawers are locked in their fully open position. Place your hand through the hole in the side of the middle drawer and lift the washbasin from the bottom. Once clear of the countertop you may grab the ledge of the sink with each hand, be careful not to let your fingers get caught between the washbasin and the countertop. Once removed from the kitchen you are free to disperse greywater in a safe manner that is clear from your campsite or dispose of water in a nearby drain or sump.
Note: the washbasin can become extremely heavy if filled too high with water. It is recommended that you remove the washbasin for dispersing water before it reaches the half-full point.
​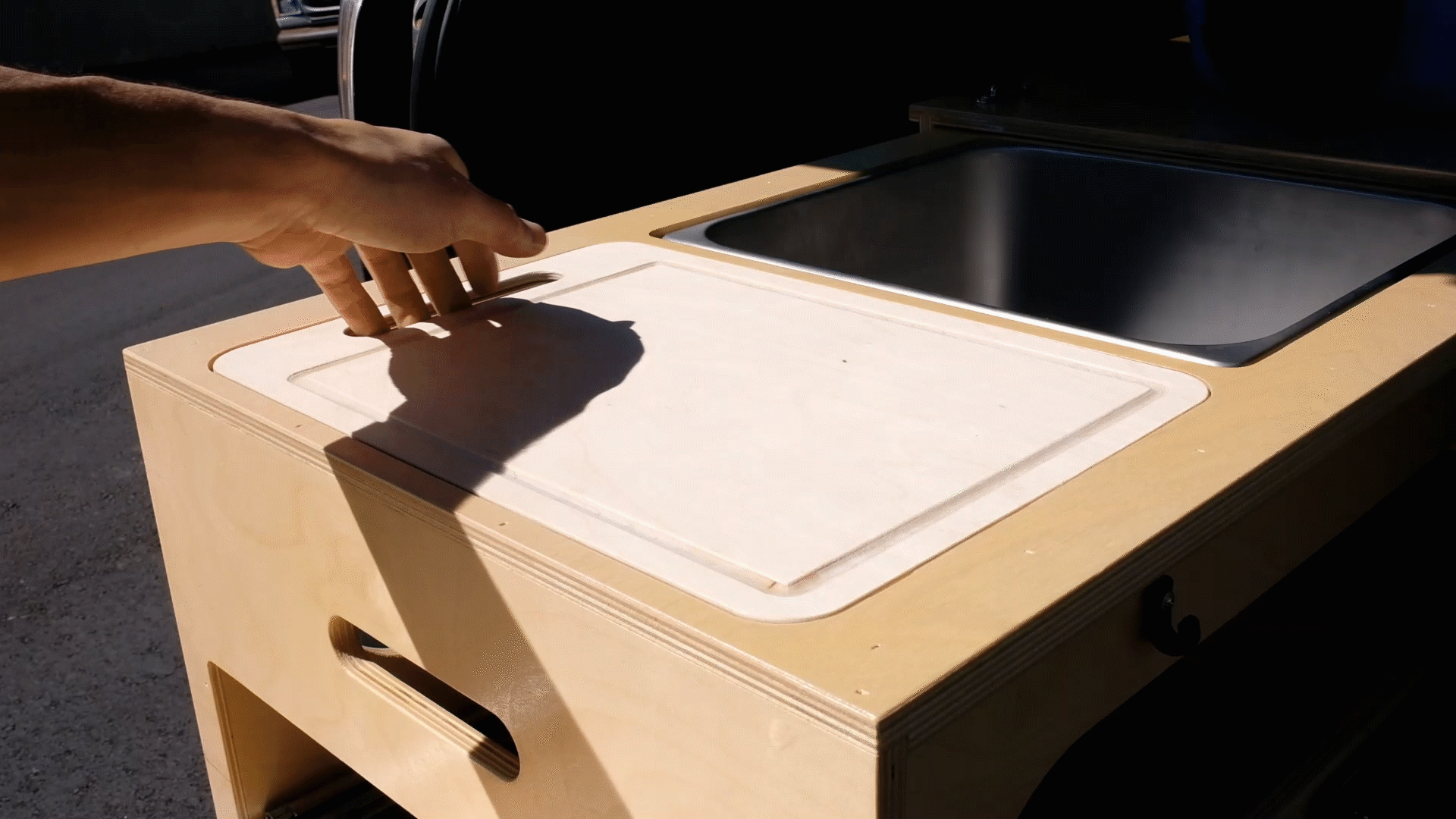 To remove the cutting board and/or dish rack, simply pull up from the handle or any of the basket's wires.
​
To install your propane tank, attach your stove's gas line to the stove. Attach the rubber propane tank strap through the holes in the drawer on the same side as the gas line. Secure the rubber propane strap to the last link, making it as large as possible while still clasped.
​
Place your propane tank through the rubber strap and screw it into the gas line. Make sure the propane tank is positioned so that the valve end of your propane tank is higher than the bottom of the propane tank.
​
Warning: Do not operate your vehicle or leave the engine running while your kitchen is open or a propane tank is attached to your stove.
​
PROP 65 WARNING: Drilling, sawing, sanding or machining wood products can expose you to wood dust, a substance known to the State of California to cause cancer. Avoid inhaling wood dust or use a dust mask or other safeguards for personal protection. For more information go to www.P65Warnings.ca.gov/wood.
​